Posted by

BlackFire Cyber Insurance

on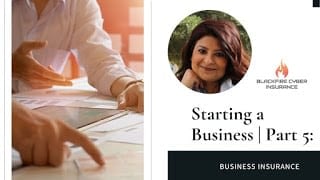 Starting a Business | Part 5: Business Insurance
Do what needs to be done, even if you don't wanna do it!
Every business needs insurance since they need to cover a variety of things from product liability to company vehicles etc. The most needed & common types of commercial insurance are property, liability, cyber and workers' compensation. In general, property insurance covers damages to your business property; liability insurance covers damages to third parties; and workers' compensation insurance covers on-the-job injuries to your employees. Just as you would get car or home insurance along with all the safety features, you would need to do the same for your business and protect your assets.
When planning out your business, don't forget to include applicable business insurance to mitigate your risk! You may need any combination of general liability, BOP, tech E&O, professional liability, workers comp' along with cyber insurance. Take time to assess your risk, connect with the experts in the commercial insurance industry and ensure you have considered possible threats and vulnerabilities that could seriously affect your asset should you face any challenges in your business.
ALL THE BEST!!!!
Filed Under: Business Insurance
|
Tagged With: Cyber insurance, cyber liability insurance, cyber security insurance, cybercriminal, data breach, e&o, general liability, professional liability, protect your business, risk management