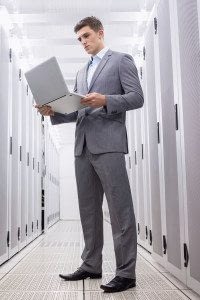 Are you insured against a cyber security breach? As a business owner, you insure your business against losses — but is your liability protected against a cyber break-in? Many businesses overlook this crucial coverage and end up paying millions in damages to customers. Don't let that happen to you.
Protect Yourself from the Theft of Client Information
Insure your Cyber Liability Exposure
Avoid Costly & Lengthy Lawsuits
Reimbursement for Notification and Regulatory Expenses
Pass on an Extra Layer of Security to Clients
The risk of a cyberattack increases significantly with virtual employees working from home. Security measures should be put in place to help prevent a data breach, including an encrypted virtual private network (VPN) through which workers access company resources and applications, strong passwords, and updated antivirus firewall software.
Third-party cyber liability insurance protects your company should a client or customer sue you over a data breach, even if the breach occurs remotely. It will cover your attorney fees, court costs, and the damages you are required to pay, up to the policy limits. First-party cyber liability insurance covers damages your company suffers from a data breach. This may include the costs of notifying affected clients and providing them with ongoing credit and fraud monitoring. If you are in the IT business, both types of cyber liability insurance may be bundled with your technical errors and omissions (E&O) insurance.
Online businesses face risk of loss related to a variety of factors, including:
Internet connection loss because of weather, fire, or vandalism
Hackers and cyber theft
Computer viruses
Privacy of customer information
Copyright violations
Breach of contract allegations
Product liability
Suspension from an e-commerce platform
Cyber liability insurance can protect your business in case of a data breach, whether the information is stolen or leaked. Many cyber liability insurance policies will cover business interruption, computer restoration, ransomware expenses, public relations, and legal fees related to a data breach.
Protect Your Company with Cyber Liability Insurance
A cyber liability insurance policy can help protect your company in the event of a data breach in which sensitive customer information is exposed or stolen by cyber criminals. Cyber liability insurance covers a variety of expenses associated with a data breach or cyber crime, including:
Notification costs
Defense against claims by state regulators
Fines and penalties
Loss resulting from identity theft
Liability arising from website media content
Property exposures from business interruption, data loss or destruction, funds transfer loss, computer fraud, and cyber extortion
The cost of cyber liability insurance will depend on various factors, including type of business, number of transactions per year, number of computers or devices, type of information collected, and security measures your company has in place. To ensure your company has the protection it needs against cybercrime and data breaches, your best course of action is to speak with a knowledgeable agent as soon as possible. Our agent can work with you to determine your company's level of risk and find the best quote on the cyber liability insurance you need including 1st and 3rd party cyber coverages.
BlackFire Cyber Insurance offers free, comparative quotes on Cyber Liability Insurance from multiple insurance carriers so you can get the best possible rate.
Want to see how much we can save you? Just request a quote to find out.