Posted by

BlackFire Cyber Insurance

on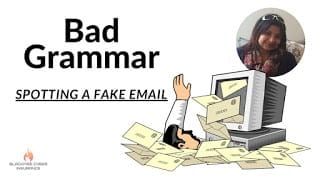 How to spot a FAKE email? Look for BAD GRAMMAR!!!
What could bad grammar tell you? Scammers use bad grammar to focus on people who will be more vulnerable to their scams. Spot these details in an email that may be a scam! Not only at work, but also our family members such as our kids, elderly or all loved ones need to be vigilant and look out for these scams.
Covid-related scams are on the rise. We ALL ought to learn to outsmart the scammers!Don't reset pw or update any info by clicking on the link in the email OR call the number from the email. Go to the original/official source – contact them via their listed sources. These small practice can save you from a big SCAM!
FREE cyber awareness training ~ Pure FUN & subconsciously educational! www.blackfirecybertraining.com. Save yourself from hacks & scams. If you like what you learn, share the knowledge with others!
Filed Under: Business Insurance
|
Tagged With: bad grammar in email, covid scam, cyber awareness, cyber security, elderly scam, fake email, fraud, phishing attack, smartphone scams, spam links, spot a fake email